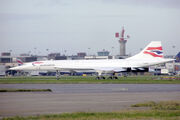 BAe/Aérospatiale Concorde 208 was operated by British Airways. It first flew on 18 May 1976, and was retired 15 August 2000 with 22,296 hours.
Preserved at Heathrow Airport, London, UK
Registrations
Edit
References
Edit
Ad blocker interference detected!
Wikia is a free-to-use site that makes money from advertising. We have a modified experience for viewers using ad blockers

Wikia is not accessible if you've made further modifications. Remove the custom ad blocker rule(s) and the page will load as expected.