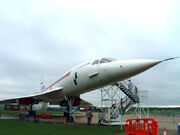 This was the first of two BAe/Aérospatiale Concorde pre-production aircraft built. Operated by British Aerospace, it first flew on 17 December 1971 from Filton and was retired to the Duxford Aviation Museum (England), where it landed on 20 August 1977, having made 269 flights (632 hours), of which 168 flights were supersonic.
Preserved at the Imperial War Museum, Duxford, UK
Registrations
Edit
References
Edit
Ad blocker interference detected!
Wikia is a free-to-use site that makes money from advertising. We have a modified experience for viewers using ad blockers

Wikia is not accessible if you've made further modifications. Remove the custom ad blocker rule(s) and the page will load as expected.