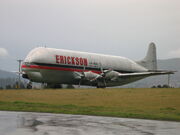 This was the first and only Aero Spacelines Mini Guppy built, original registration N1037V. It used parts of Boeing 377 15937.
Named Spirit of Santa Barbara by its manufacturers, it was sold to American Jet Industries, then Aero Union, and finally Erickson Air Crane.
Preserved at the Tillamook Air Museum
Registrations
Edit
References
Edit
Ad blocker interference detected!
Wikia is a free-to-use site that makes money from advertising. We have a modified experience for viewers using ad blockers

Wikia is not accessible if you've made further modifications. Remove the custom ad blocker rule(s) and the page will load as expected.